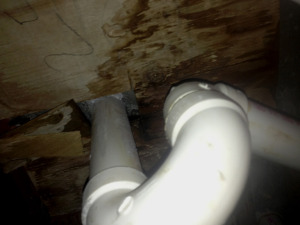 Water damage can occur from a variety of sources, including:
Natural floods
Pipes breaking from damage or freezing during the winter
Roofing or siding leaks
Ice dams
Wind driven rain
Foundation cracks
Sump pump failure
Damaged water systems on refrigerators
Faucet leaks
Any of these causes can lead to significant structural problems if not addressed. Mold can start growing within three days in certain situations if the water issue is not addressed immediately. This sometimes can result in a much more costly situation and has been linked to certain health issues.
In water damage situations its key to be on site quickly to extract the water if necessary and start the drying process quickly. Its also imperative that if you choose to address the issue before a restoration company can get there you first make sure there are no safety issues before entering the flooded area. These issues can be but not limited to live wires , trip hazards or oil or gas leaks etc.
Some of the things you as a homeowner can do to prevent further damage and expedite the process are as follows:
Remove any excessive or standing water if possible with a mop, towels or wet-dry vacuum especially on hard wood flooring.Remove any wet cardboard boxes and discard.
Remove any contents from the water to a safe dry place.
Remove any wet area rugs if possible to prevent bleeding, delamination and shrinking.
Remove any water from hard furniture by wiping with a cloth or towel.
Place any furniture with wooden legs on wood blocks or aluminum foil to prevent wicking and if it's warm out and you know the humidity level outside is pretty low open all windows and doors if possible to reduce the humidity level and prevent secondary damage.
If you have water damage from leaks, flooding, broken or frozen pipes, call us right away at 781-236-2120 and we'll provide you with an honest assessment and estimate.